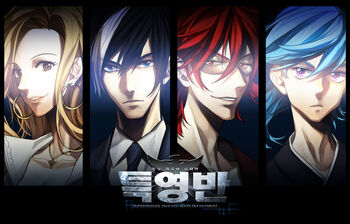 Supernatural Investigation Department (manga) Wiki is a wiki about Supernatural Investigation Department. This open source format allows anyone to create or edit any article, effectively making this endeavour a team project. Check out the FAQ to help you get started! This site also contains SPOILERS. Read at your own risk.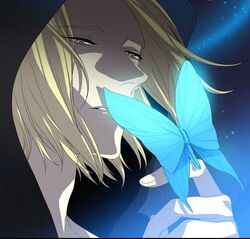 For the first 45 chapters, he wasn't known by any name, but his power was felt in full. He's been set up as the antagonist and his presence has been felt since the first chapter, but little is actually known about him, his powers, or his intentions. Now that he and Somos are intervening, it could spell doom for the protagonists, but it just might mean more answers about him and his organization... Care to learn a little more?!

Chapter 045 sees Si Mun make a break in the KapCheoul murder case, and he, Tenka, Baram, and Sophia set out to find the body of his victim. |}
What would you like to know more about?
Daum

Black Behemoth   •  Jack, the American Ghost   •  Red Storm   •  Trace   •  Twelfth Night (2nd Wiki)   •  Wake Up Deadman

Foxtoon

Lezhin

Naver

Ability   •  Abide in the Wind   •  Americano Exodus   •  Aura from Another Planet Wiki   •  Bastard   •  City of Dead Sorcerer   •  Crepuscule   •  Dear, Only You Don't Know   •  Denma   •  DICE (2nd Wiki)   •  Divine Bells   •  Dr. Frost (2nd Wiki)   •   The Flow   •  The Gamer   • Gepetto   •  Girls of the Wild's   •  The God of High School   •  Gosu   •  I Don't Want This Kind of Hero   •  Knight Run   •  Kubera   •  Lessa   •  Lookism   •  Magician   •  Mima of the Forest   •  Nano List   •  Noblesse   •  Nowhere Boy   •  Orange Marmalade   •  SHADOW   •  Spirit Fingers   •  Sidekicks   •  Soul Cartel   •  Supernatural Investigation Department   •  TAL   •  A Thousand Years Ninetails   •  Tower of God   •  Transfer Student Storm Bringer   •  Trump   •  UnderPRIN   •  unTOUCHable   •  Winter Woods   •  Wonted

---
Ad blocker interference detected!
Wikia is a free-to-use site that makes money from advertising. We have a modified experience for viewers using ad blockers

Wikia is not accessible if you've made further modifications. Remove the custom ad blocker rule(s) and the page will load as expected.